Products Description
HS Steel strip for the manufacture of wood bandsaw blade, products detaisl as below;

Steel Grades
Normal standard DINCK75 (AISl 1074, W.-Nr. 1.1248). For smaller sizes.
C= 0.75%; Si= 0.2%; Mn=0.75%
SUBN-15 For larger sizes( with 2% alloy nickle steel)
C= 0.75%; Si=0.25%; Mn= 0.35%; Ni:= 2.0%
Forms of supply
Hardened and tempered steel strip in coils.

Finlshes
Edges:square,smooth (see also page5)
Flatness:max. unflatness across the strip width 0,15%
Surface: bright polished / super blue
Excellent straightness is obtained by a new edging technique.
Mechanical properties
Strip thickness
Tensile strength
Hardness
MM
Inch
n/Mm2
Hrc
≤1.83
≤0.072
1500±80
44-47
≤1.83
>0.072
1350±60
40-43

Size:The HS standard program is shown on next page. Our continuous manufacture in these sizes means good delivery security. Other sizes are obtainable 0n request.
Teeth form:All saw blade steels trip can punch teeth with below teeth type, please contacat for details;
Tooth profile or shape as follow: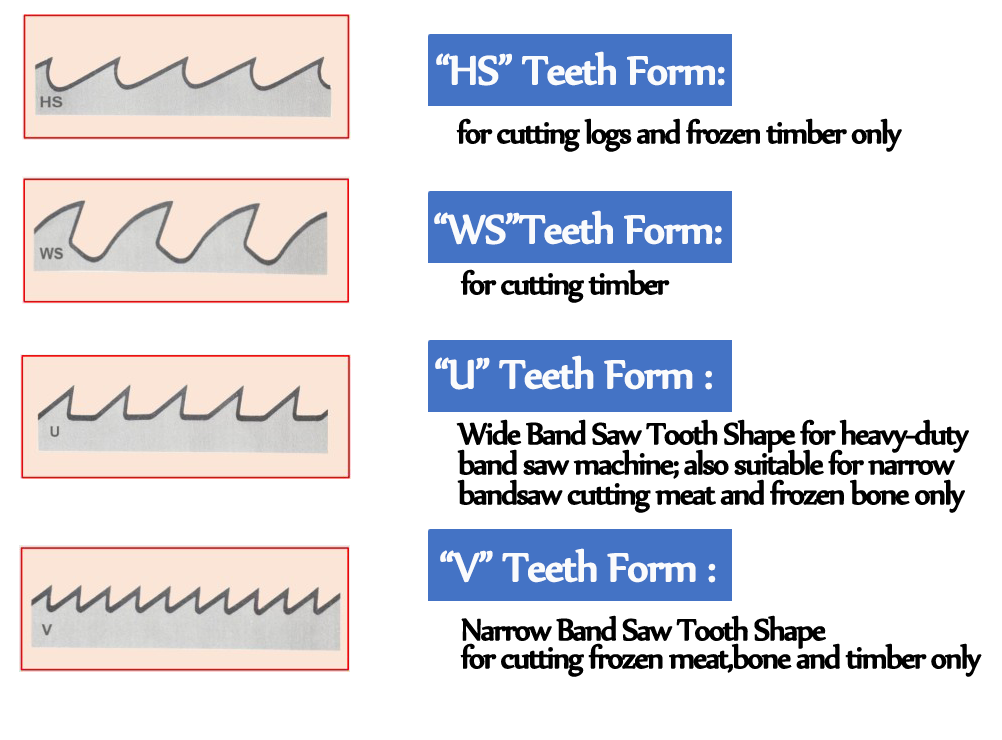 Band saw blade in coils. Can be supplied in form of 100 meters length or longer.

On request the strips can be supplied branded "HS- Made in **" OEM and ODM are welcome!